Pit assessments significantly reduced
psychiatry wait times.
A pit assessment is an innovative 30-minute collaborative assessment with a patient, general practitioner and psychiatrist, when a full psychiatric consult is not indicated.  As a result of implementing pit assessments, average wait times to see a psychiatrist fell from 43 days in 2013 to only 10 days for a pit assessment and 15 days for a full consultation in 2016.
For more information about pit assessments, read our recently published article or check out our webinars.
Webinars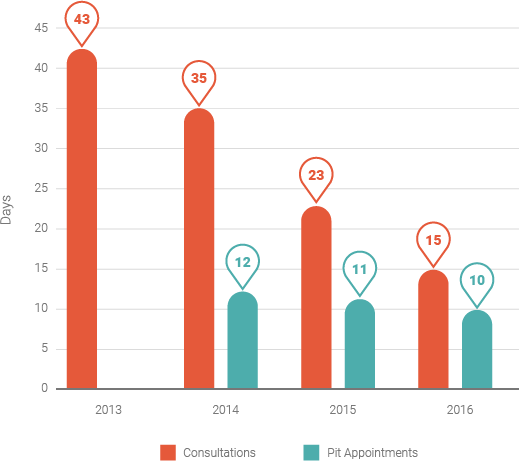 This video describes the motivation for and evolution of pit assessments and shows a sample pit assessment.
Over time, we found the reason for referral was the best way to determine which patients should be seen in pit assessments or full consultation. We generated a table which provides a summary of our findings and was used to guide family doctors during the referral process. To set clear expectations for pit assessments, we also developed a referral sheet and a patient information sheet. You can download the toolkit to view  the Pit assessment resources here.